Instagram: @kaffelogic_roasting
What is your core business? Coffee roaster manufacturer
When did you start trading? 1 April 2019
Give us a three-sentence summary of your company: We are an allied member who manufactures the world acclaimed Kaffelogic Nano 7 roaster. Exporting to over 25 countries, Kaffelogic is a rapidly growing company with a growing reputation for producing one of the worlds leading small-batch roasters. With sophisticated profiling software included, Kaffelogic is becoming the preferred sample roaster for coffee roasters, farmers, and green bean traders around the globe.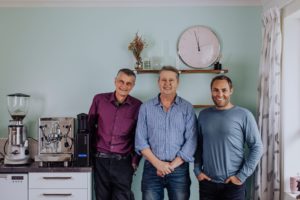 Who are your customers? Our customers include some of the world's top professionals including several New Zealand and international roasters. Our 'Gold Medal' moment came in October 2021 with Matt Winton (Switzerland) winning the World Brewers Cup title in Milan with coffee roasted on Kaffelogic.
The 5th place by Kenyan competitor who used Kaffelogic roasted coffee in his milk-based coffee routine rounded out an extremely successful competition for Kaffelogic. But it's not just professionals using Kaffelogic, the growing community of home roasters is latching on to Kaffelogic as a great solution for home situations.
Describe your ideal customer: Industry Customers: any business roasting coffee should be sample roasting for the purpose of blend development, quality control, sampling new coffees, etc. Kaffelogic is a great cost-effective solution and alternative to other expensive old technology roasters out there. Kaffelogics 'Studio' profiling software enables customers to fine-tune their profiles and then use a conversion envelope to adapt these to their production roaster to replicate flavour results. Our support team is available to guide customers through this process.
Domestic users: As with many other industries such as craft brewing or other artisan food production, there is a growing interest in home roasting. Most resellers of Kaffelogic are indeed coffee roasting companies who also on-sell green beans to these customers, so Kaffelogic represents an opportunity to develop an extra revenue stream to their existing business.
How do you reach your customers? (online, storefront, in person, on the phone, etc) Social media 'chat' is our main driver of sales complemented with paid adverts on various digital platforms including Facebook, Instagram, Reddit, etc. But by far our most successful sales leads come from word of mouth as customers start to share their experiences
What's something you sell/offer that not many people might know about: Kaffelogic is still a product in its early days of awareness so many still do not know about us!!
Tell us about any advances over time that you've embraced. These may be technological, sustainability, or HR for example Product-wise, the core to Kaffelogic is its 'tech' content, being the 'studio' profiling software. Enhancements planned for this year include Bluetooth connectivity which will allow users to monitor roasts in real-time. We have big plans for the product in the future with tech playing a big part in this.
Sustainability is another big focus for us as a company. Packaging has been designed with little or no plastic, as has the unit itself. And Kaffelogic has been designed with the 'right to repair' movement in mind which means the product can be easily serviced and/or repaired by the consumer. Further to this Kaffelogic is designed to be an heirloom product that may be passed from one generation to another.
What has been the project/concept/service that you're most proud of? The fact that Kaffelogic has been designed developed and manufactured here in New Zealand is something we are incredibly proud of. And the recent success at the World Coffee Events in Milan have reinforced that Kaffelogic is a World-class product that Kiwis can also be proud of.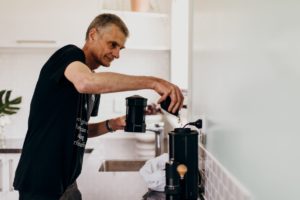 What gets you and your team out of bed in the morning? Why do you do what you do? A love of coffee and being part of a business that is making waves around the world of coffee. 2022 will see us launch into the huge North American and Japanese markets with a new 100-120Volt version currently in development. This will complement the existing 220Volt version being sold throughout Europe, Asia, Australia, and New Zealand. So, getting out of bed each morning is an exciting event of every day!!
Do you think the expertise of industry is appreciated by the general coffee drinking public? I think a growing awareness of specialty coffee is increasing the public view of coffee. Bringing attention to the nuances of specialty coffee will grow public engagement further.
In an ideal world, where would you like to see the future of our industry? I would like to see the public impression and awareness of coffee here in NZ growing to include brewing methods beyond espresso. There is a whole new experience awaiting the average consumer, whether this is soft brewing such as V60, Chemix, Aeropress, or Cold Brew. Kiwis are creatures of habit are can be reluctant to try things that may be 'different', so this is a challenge that the industry should be attacking full on. We are finding that customers who purchase Kaffelogic do start to try these different brew methods and are amazed at the new world of taste that opens up for them. This is very rewarding from our point of view.
What's in the future for your company? Any current projects that you are proud of? This year is all about growing our global business with the establishment of a growing distributor network. In addition to this the pending launch of our new 100-120Volt version into North America and Japan with being a huge task for our team.
We are also working on several R&D projects to enhance the product for the future including the Bluetooth module plugin unit. And lastly, we recently opened our own factory in Dunedin to replace the existing contract manufacturing arrangement we have had until now. This means local employment in Dunedin and the ability for us to scale production to cope with the huge demand that is growing rapidly. This will reduce our backorder time from 8-10 weeks to 1-2 weeks.
John Robson, Co-Founder/ Director john@kaffelogic.com