The Ultimate Fluffy Challenge!
Introducing a fun online competition dedicated to our small people, "The Fluffy Brigade".
Simply make your version of the ultimate fluffy and tag us @nzspeccoffee with the hashtag #ultimatefluffychallenge to be in to WIN! 
Your entry must include a description of the fluffy, what type of milk used and the machine/device used to make it. An extra photo may or may not include small person consuming fluffy, proving that it is edible and tasty.
A brief description of how it tasted and what decorations/adornments used may, or may not gain points! The judges are quite picky…
Fluffy's can be made on anything from a plunger to a home or commercial machine. OR snap a pic of your favourite fluffy place. We want to hear about the cafe's that make the best fluffy a.k.a the five-minute peace keeper/hero.
Judged by four four's and under, including an international judge!
Winner/s gets a set of baby tasters cups from Acme @acmeandco (perfect fluffy size), a $100 voucher to spend via SOScafe from Meadow Fresh @gffoodservicenz and a pair of limited-edition Barista Championship 2020 mugs. And of course, bragging rights as winner to the world's first (to our knowledge)Ultimate Fluffy Challenge!
This competition is online only and limited to those in New Zealand only.
This competition runs from September 14 – 18 and winner/s will be announced ‪on Monday 21 September 2020‬.
This Instagram and Facebook competition and giveaway is not sponsored, endorsed or administered by, or associated with Instagram or Facebook.
#tastywhitestuff #mastersofthemilk #futuremilkwizards #mfnzbc2035 #worldfirst #nzspeccoffee #futureflatwhitedrinkers #futurecoffeeproffesionals#fluffoff #peopleschoice #bestnewcomer #tastiestmilkbeverage #passions #coffeeindustry
Introducing our judges for our fun online competition dedicated to our small people, "The Fluffy Brigade".
---
Amy has quite the parental lineage and her own GS3 at home. Amy says "like milk, not coffee
"
---
Ollie is only two but already has two years of experience making coffee. Follow his adventures on the cutest coffee page @brewingwithbambino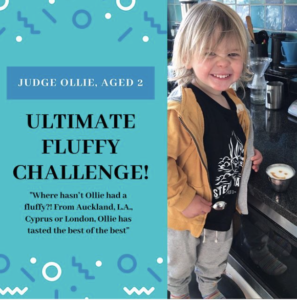 ---
We told Eilidh about the comp, first question: "do I get to taste them all?!" Well, no, we will just show you some pictures, *big smile "that's cool."
---
Angus Ragnar loves making his mum pretend coffee, and is always hungry. "Can I have a fluffy nooooooooow?"