We interview Hugo Macdonald from Cofinet and 3Brothers about collaboration in importing the green beans from Brazil and Colombia.
Tell us about your company?
We have a unique setup in that it is two companies that I represent: Cofinet from Colombia and 3Brothers Coffee from Brazil. Both companies are green coffee exporters from their respective origins with a shared office and staffing base here in NZ. The collaboration works well in providing the expertise of specialist green coffee companies while also covering two of the most important coffee origins.
Cofinet founders Carlos and Felipe Arcila are 4th generation coffee farmers from Quindio in Colombia. Their parents, Jairo and Luz Helena, own seven coffee farms around the region and in late 2018 Carlos and Felipe bought their first farm, Jardines del Eden, to run as an experimental farm for exotic varieties and alternative processing methods.
3Brothers Coffee was founded by Tercio and Thiago Borba. Their backgrounds were in hospitality and agronomy. After years of seeing amazing coffees coming out of other coffee origins they wanted to try and do something similar in Brazil; moving away from the nutty, chocolatey blending coffees it is famous for. Since then we have always tried to offer a range of coffees which sit outside the expectations of Brazilian coffees.
How long have you been trading?
We have been operating in New Zealand since 2018. Carlos and Felipe's family have been growing coffee for 80 years and started Cofinet in Australia in 2015 as their first overseas importing office. 3Brothers Coffee began in Australia in 2012 and in 2016 they launched their own exporting arm from Brazil called Burgeon Specialty Coffees.
Tell us about your role?
My role involves managing our operations both here in NZ and the UK and providing support to the rest of our team globally across both companies. Within NZ this involves connecting with roasters throughout the country and ensuring we are providing the right coffees and the best service. A lot of my time is spent coordinating our offering and supply, quality control, managing samples, logistics and various administrative tasks.
What is the best part of your job?
I really enjoy our visits to roasters throughout the country. It feels like a privileged position to be able to meet and learn from such a wide range of people. Add to this origin trips which are such a unique and humbling experience. To distill that further I love the learning experiences presented throughout my work activities of meeting different people working in coffee.
What is the biggest challenge your business faces?
Aside from the pandemic and any other existential threat, we are constantly challenged with trying to balance the equity throughout the supply chain. I am not the first person to highlight this point and I will not be the last. Part of the solution requires the consumer base to be more aware of the provenance of their coffee. I do think there is an opportunity through technological developments to bring the producing and consuming worlds closer together. From there we need a more transparent understanding of how the supply chain works so that both ends of the chain gain better value.
What is your favourite part of the industry?
Seeing all the development at origin. Once you scratch the surface of our industry you see just how big the coffee world is. There are fascinating changes in the way coffee is being processed and selecting particular varieties for their unique profile. The more connected this industry is right the way through the supply chain, the better coffee will be and this has clearly been the case over the last couple of decades.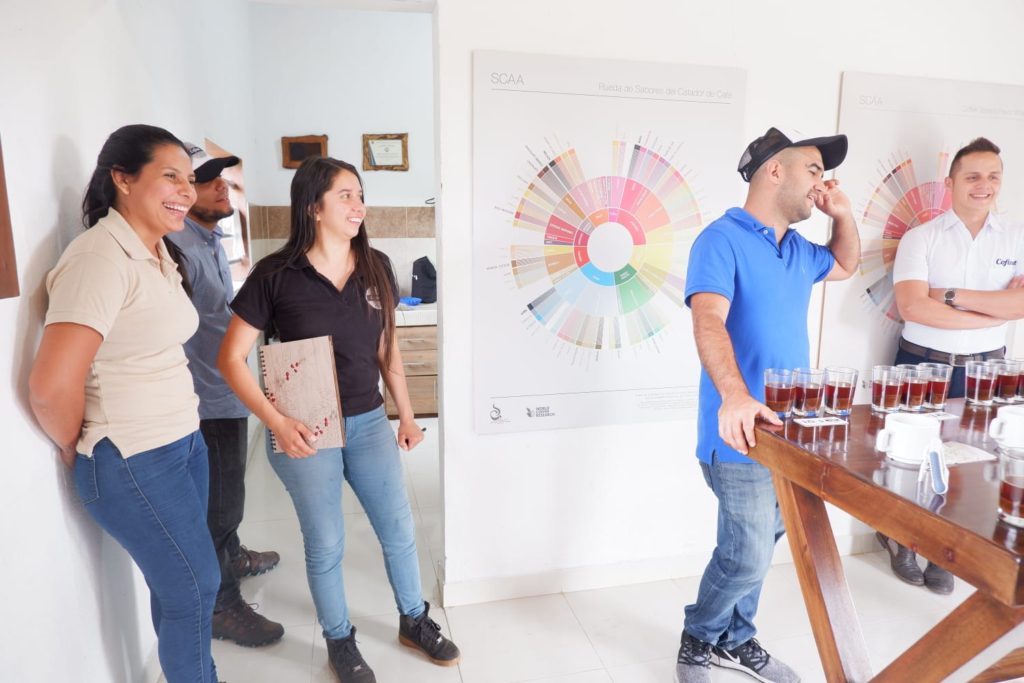 What's something that people are surprised to learn about your company?
That we are representing two separate companies. I don't know of any other setups like it and it is novel for most roasters as well. We try our best to streamline our processes locally, but each company does take slightly different approaches.
What is the biggest change you've seen in the industry since your company has been operating?
More variety of coffees being used. I think this is a really important step to ensure a robust industry that challenges itself to improve.
What change would you like to see?
More of the above. While there has been progress in expanding our exposure to coffee in New Zealand, I still feel there is a lot more room to grow. Although our isolation makes it harder, more interaction with origin and the wider coffee community will go a long way to ensuring we keep up the pace with the rest of the global coffee industry.
What would be your dream 'coffee experience'?
I have never been to Ethiopia so that's number one on the list.
Name two coffee legends would you want to have coffee with and why?  What would you drink?
Mike Riley of Falcon Specialty in the UK. He has the most outrageous life stories and a wealth of knowledge to share.
Jaime Castenada. He's a producer I stayed with on my first trip to Colombia in a fairly remote part of Antioquia way up in the mountains. We've stayed in touch but that visit reshaped my view of the coffee world in a profound way.
Something on filter for both of the above.
Best way to get in touch: