Instagram @theSnobbyCollective @thevillagesnob @north_island_coffee_festival
What is your core business? Retail coffee, coffee cart, and multi-roaster coffee subscription.
When did you start trading? February 2019.
Give us a three-sentence summary of your company: A group of small coffee businesses. The Village Snob is a destination for coffee lovers, located in Whanganui. The Snobby Collective monthly subscription shares single-origin coffees with story and provenance.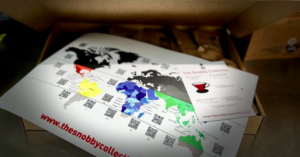 Who are your customers? Coffee enthusiasts.
Describe your ideal customer: Coffee drinkers who want to experience and understand what makes each coffee different, who care about ethics, and believe that as coffee drinkers we can influence positive change.
How do you reach your customers? (online, storefront, in person, on the phone, etc) Storefront and online.
What's something you sell/offer that not many people might know about: Brew gear. All the brewers and consumables that you need to get you brewing at home.
Tell us about any advances over time that you've embraced. These may be technological, sustainability, or HR for example Technology, the Puqpress. Sustainably, (ethics and environmental) lead to our subscription business, the desire to share the importance and impact of initiatives being enacted at origin and beyond.
What has been the project/concept/service that you're most proud of? 2021 Coffee Advent Calendar.
What gets you and your team out of bed in the morning? Why do you do what you do? Getting people excited about coffee, Sharing coffee stories.
Do you think the expertise of industry is appreciated by the general coffee drinking public? I don't believe we reach people as much as we could or should. In saying that, when we do there are people who are very appreciative of the knowledge and expertise we share. I don't believe that people like to look upon being a barista as being a skilled job. This may stem from the old school "coffee tastes like coffee / all coffee is the same" mentality.
In an ideal world, where would you like to see the future of our industry? I would love to see an end to "coffee for coffee's sake" I can't help but feel that the "we have a spare corner, we better put a coffee machine there" no matter the business is not helpful in moving the industry forward with consistently high-quality beverages. This is also one of the challenges (IMHO) of getting past the $5 flat white. Sustainably wise, I'd love to see people talking more about the coffee and an understanding deeper than "fair trade" "organic" and "Arabica" as buzzwords used by big companies that ultimately confuse and muddy the waters of the general consumer.
What's in the future for your company? Any current projects that you are proud of? The success of the 2021 coffee advent calendar has spurred the development of more collaborative efforts to explore coffee with a deeper focus on diversity and understanding. Watch this space.
Paul Harris https://www.thesnobbycollective.co.nz