Here's to 25 years of Vivace Espresso.
One of our original OG's founding member company of our association is turning 25. They have encountered it all in the last 25 years at Vivace Espresso, from the global financial crisis, the Christchurch earthquakes, an accidentally bulldozed cafe (yes, really!), and the current worldwide pandemic.
They've  also witnessed a massive transformation in the coffee market and are proud of how they adapted to these changes over the years. But most of all they are proud to be able to continue doing what they love.
The man behind Vivace Espresso and the force who's been rise-and-grinding through the ups and downs since they opened their doors in 1997, is the original coffee connoisseur 'OG' Bernard Smith.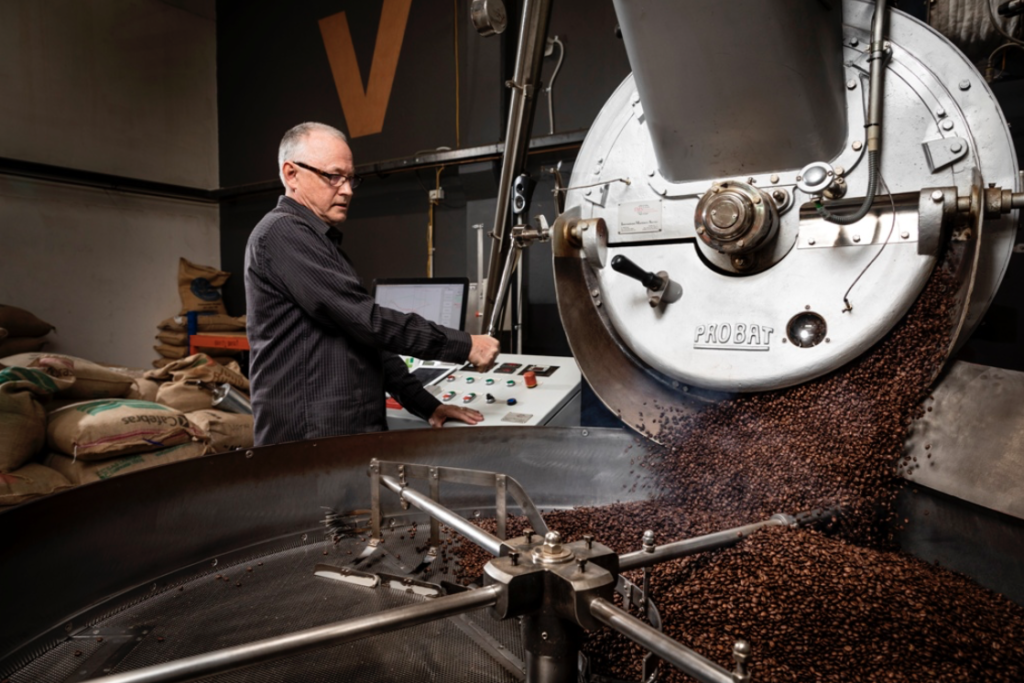 Raised around coffee beans, Bernard hails from a family of coffee pioneers and a roasting lineage that extends back three generations – his grandparents and his father, Trevor, were Christchurch's first coffee roasters.
During the 1940s they ran an imported Italian roaster from the back of the Browne and Heaton store on Cashel Street. Eventually, Bernard's father sold the business to Robert Harris in the 1980s"I've always been passionate about coffee and after spending years roasting for my father's co-owned business, I missed being in the industry, so I decided to take a punt and start my own coffee company. It turned out to be a good time to open a coffee business because the industry was starting to grow."
We love Bernard's quirky sense of humour, and it quickly came to the fore in Vivace Espresso's advertising when he put a sign on the Hereford Street site (where the original cafe stood) stating, 'Harrods is coming to Christchurch'. While technically untrue, it did make the local paper and set tongues wagging!
Never one to shy away from hard work, Bernard had a small team of dedicated workers running Vivace Espresso in its first year. He hosted monthly barista evenings, honing his clients' coffee-making skills, and ensuring they were getting the best out of Vivace Espresso's beans.
After 12 months Bernard was able to hire more staff and focus on the wholesale roasting side of Vivace Espresso, with word of mouth (AKA the original social media) proving to be key to growth.
But in that time, and like many other businesses, Vivace Espresso has had its share of hurdles – and the 2011 earthquake was a big one.
The team acted quickly and had the roastery up at running within 48 hours… over the following six weeks they also helped two other coffee roasters base themselves at their premises to ensure they would survive.  Wow, helping their competitors during a crisis, what good buggers they are!
"We're very much a family business; we have had an amazing team of people over the years who really care about our product and our customers.  Several have gone to represent New Zealand and Australia on the world stage so I'm proud of what we've accomplished and how we've impacted the loves of so many within the trade.
Although Covid-19 has thrown up a new set of challenges, Bernard says his mantra is, as always, to keep calm and carry on.
"We haven't put things on hold. Throughout the pandemic we've refitted our cafe, rebranded, and launched a new website. If you want to succeed, you need to keep developing and improving – you can't let obstacles get in the way.
We've been through the wringer, but I truly believe the reason we've survived for 25 years is because we continue to stay relevant, adapt and ultimately we care about our customers – we train them to make good coffee and people keep coming back for more."
It's a milestone we're proud to celebrate – here's to 25 more!