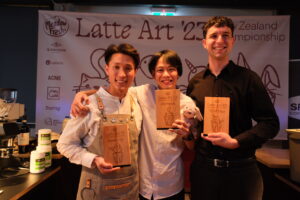 (L-R) Yu Hsin (Dennis) Hsueh, Tsubasa Nico Nozaki, Daniel Woodhouse | Photo credit Yuri Yang
With three beautifully poured designs, including his Aires star sign, Tsubasa Nico Nozaki, Flight Coffee, Wellington will be representing New Zealand at the World Latte Art Championship, taking place in June 2024 in Copenhagen, Denmark.
Held at The Sapphire Room, Ponsonby Central, Auckland, on Saturday 5 August, the NZ Latte Art Championship '23 saw 16 competitors pouring in the title.
Our Runner-up, and previous champion, was Yu Hsin (Dennis) Hsueh, Demi Urgos, Hamilton and Daniel Woodhouse, Grey Roasting Co, Hamilton took third place.
Rounding out the top six were fourth place to Subin Choi, Kanteen, Wellington,  fifth place to Charanjeet Singh Saini, Independent, Christchurch, and sixth place to newcomer Bryan Rajeyya, Grey Street Kitchen, Hamilton. Congratulations to all our competitors, you can be proud.
Thanks to our incredible sponsors, the event felt like a mini coffee festival, and the huge crowd was attracted to the throwdowns, fluffy corner, and the artistic championship, of course. All coffee tastes were covered with delicious filter coffee and oat milk pouring. The competitors' creative control of milk wizardry weaving stories and contrast in the cup was next level.
Massive thanks to our sponsors, judges, volunteers, spectators, and supporters!
---
All are welcome to come along and witness milk wizards execute delicious art in a cup! Renowned for its consistency in symmetry and contrast, the championship celebrates the fusion of detail, design, and dexterity, all skilfully executed in silky milk. It seeks to discover baristas who possess a unique ability to pour their heart into each cup, elevating their creations to the level of masterpieces.
Thanks to our amazing sponsors: Meadow Fresh, La Marzocco, Hey Cafe via AMC Roastery Supply NZ, Cafetto, ACME Cups, Grey Roasting Co, and Boring Oat Milk
We are returning to The Sapphire Room in Ponsonby to showcase New Zealand's best milk artists!
The NZ Championship 2023 consists of two thrilling rounds: a preliminary round and a final round, both of which promise to deliver awe-inspiring performances. During the preliminary round, held on stage for a duration of eight (8) minutes, participants will demonstrate their talent by producing two identical free-pour lattes and two identical designer lattes.
The top six competitors from the preliminary round will advance to the grand finale, where they will showcase their skills entirely on stage for ten (10) minutes. In the final round, baristas will present two identical samples of 'art in a cup' for three different beverages: two separate sets of matching free-pour lattes and one set of matching designer pattern lattes. The designer latte offers an opportunity for baristas to incorporate techniques such as etching and surface decoration, using aids of their choice to bring their vision to life. To ensure clarity in the judging process, competitors will provide a photo of their intended design prior to the start of their presentation, with the photo serving as the reference point for scoring.
Our calibrated Judges will evaluate the beverages immediately, taking into account visual attributes, creativity, identical patterns in the pairs, the contrast in the patterns, and the baristas' overall performance. The competition is a feast for the eyes, with intricate designs and the winner will receive a coveted prize pack including flights and accommodation to the esteemed World Latte Art Championship 2024, to be held in Copenhagen, Denmark from 21 to 24 June 2024.
The Meadow Fresh NZ Latte Art Championship 2023 adheres strictly to the World Latte Art Rules and Regulations, the NZ Code of Conduct, NZ Champions Terms and Conditions, and other relevant guidelines governing the event.
Meadow Fresh NZ Latte Art Championship
Time: 8 am – 5 pm
Date: Saturday 5 August
Location: The Sapphire Room, Ponsonby Central, 7 Richmond Road, Auckland
Tickets: Free for Spectators.
Timeline and Competitors:
8:35am Yu Hsin (Dennis) Hsueh, Demi Urgos, Hamilton
8:45am Kyle Cabangun, Ally & Sid, Christchurch
8:55am Lauren Han, Slowlane, Auckland
9:05am Tsubasa Nico Nozaki, Flight Coffee, Wellington
9:15am  Linh Den, No. 177 Cafe, Auckland
9:25am James (Hyeon Jun) Bang, Crafted Coffee Company, Christchurch
9:35am Sumin Gurung, Kopi Cafe, Hamilton
9:45am Sienna Gao, Grey Street Kitchen, Hamilton
9:55am Max Yuqi Cui, Mojo Coffee, Wellington
10:05am Subin Choi, Kanteen, Wellington
10:15am Yuyang (Benson) Zhang, Two Birds Eatery, Hamilton
10:25am Takashi Ueno, Cafe Agora, Hamilton
10:35am Daniel Woodhouse, Grey Roasting Co, Hamilton
10:45am Bryan Rajeyya, Grey Street Kitchen, Hamilton
10:55am Jenny (Yu Jeong) Kim, Atomic Coffee, Auckland
11:05am Charanjeet Singh Saini, Independent, Christchurch
Final (top 6) commences 12:30pm