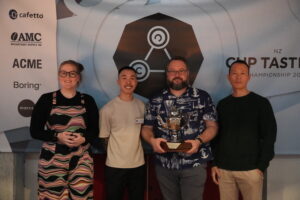 (L-R) Jaye Sanders, Johann Chong, Pat Russell, Han Jong Lee, and Jaye Sanders |
Photo credit Yuri Yang  
What an afternoon for coffee! Sunday 6 August saw the New Zealand Cup Tasters Championship held at The Sapphire Room, Ponsonby. The room was packed full of coffee lovers who enjoyed the pumping atmosphere, the actual coffee on the table via pump pots, and a stage bursting with tasting talent.
There was a sold-out field of 36 from all around NZ. The leaderboard changed slightly with steady numbers and tight times coming in but no 8/8 in that first round.
With ten seconds in it, Pat Russell, Sucafina NZ, Auckland became our Champion with a stunning 8/8 in the slick time of 2.06.
Congratulations to our finalists:
 Runner up, Han Jong Lee, Meebz Coffee Roasters, Auckland 8/8 2.16
 Third place, Johann Chong, Meebz Coffee Roasters, Auckland 7/8 1.56
 Fourth place, Jaye Sanders, Firsthand Coffee, Havelock North 6/8 2.29
Han Jong Lee retained his second place after competing for the first time last year. Johann Chong, a first-time competitor also from Meebz Coffee Roasters is one to watch too. And we are just so proud of Jaye Sanders for taking out fourth place.
Huge thanks to our sponsors: Cafetto, Ozone Coffee Roasters, AMC Roastery Supply, Acme Cupco, Boring Oat Milk, and Marco via L'affare.
A heartfelt thank you to the volunteers who make our event such a success. Every competitor received a beautiful goody bag filled with sponsors' products and a commemorative plaque with their scores and photos.  You're all skilled tasters and the afternoon showed how incredible the depth of talent there is in NZ.
Keep on cupping, coffee lovers, we'll be back in 2024!
Cup Tasters 2023 Competitor scores and ranks from the first round
---
Come along and see 36 of the best tasters in NZ.
The winner of this championship will earn the honour of representing New Zealand at the highly anticipated World Cup Taster's Championship in 2024 in Chicago, USA next April.
The New Zealand Cup Tasters Championship celebrates the art and precision of professional coffee cuppers, who showcase their speed, skill, and accuracy in distinguishing the taste profiles of specialty coffees. With each cup offering distinctive flavours and characteristics from around the world, cuppers rely on their refined senses of smell and taste, unwavering attention, and extensive experience to identify the odd cup among a set of three in each triangle.
Sunday 6 August 2023 2 pm – 6 pm The Sapphire Room, Ponsonby Central, Auckland.
Many thanks to our sponsors: Cafetto, AMC Roastery Supply, Acme Cup Co, Ozone Coffee Roasters, Boring Oat Milk and Marco via L' affare who are supporting this epic event.
Cuppers up to cup:
Carson Chan, Allpress, Auckland
Jake Choi, Receptionist Coffee, Auckland
Miyuki Azuma, Chizu Coffee, Auckland
Long Xiang (Joseph) Loh, Wolf Coffee Roasters, Arrowtown
Cam MacFadyen, Allpress, Auckland
Johann Chong, Meebz Coffee Roasters, Auckland
Jana Kettnerova, Ffocee Coffee Roasters, Wanaka
Otavio Gallina, Roma Coffee NZ, Auckland
August Hislop, Atomic Coffee Roasters, Auckland
Neve Skullan, Atomic Coffee Roasters, Auckland
Christopher Kastner, Eighthirty Coffee Roasters, Auckland
Chris Drury, UCC Coffee, Auckland
Jason Moore, Vanguard Specialty Coffee, Dunedin
Violet Zhu, Aoraki Coffee Roaster, Hampton Downs
Ralph Jenner (Ralphhimself), Newground, Auckland
Jono Wigmore (Beardy), Newground, Auckland
Alan Bruce, Flight Coffee, Wellington
Steve Hall, Flight Coffee, Wellington
Toby Oliver Chen, Independent, Wellington
Danny Lee, Rumours, Auckland
Jaye Sanders, Firsthand Coffee, Havelock North
Ben Sutcliffe, Firsthand Coffee, Havelock North
James Evison, Vivace Coffee, Auckland
Josh Hornsby, Havana Coffee Works, Auckland
Craig Jones, Opal Coffee, Christchurch
Chace Tian, Coffee Tech, Auckland
Maria Fajardo, JDE Peets, Auckland
Sam Miller, JDE Peets, Auckland
Charlie Wratt, L'affare, Wellington
Nate Bos, L'affare, Auckland
Hayden Wood, People's, Wellington
Raymond Dong, Aoraki Coffee Roaster, Hampton Downs
YuanYuan Chen, Society Coffee, Auckland
Tianfu Yuan, Karajoz Coffee Company, Auckland
Han Jong Lee, Meebz Coffee Roasters, Auckland
Pat Russell, Sucafina NZ, Auckland