Give us a quick rundown of your coffee career and how you ended up at the competition on the weekend of August 5-6 2023:
I became a coffee professional in 1996 when I began slinging espresso, and brewing HEAPS of filter, for The Second Cup Coffee Co.  Little did I know that my part-time Barista gig was going to turn into an almost 20-year history with the company.  During my time with them, I managed cafes, worked in regional field operations roles, oversaw their Franchisee training program, and ran beverage development. Underlaying the last ten years with the company I managed the green coffee program.  After leaving Second Cup I joined Reunion Coffee Roasters as their Director of Coffee, before leaving Canada for Auckland to join JDE Peet's in ANZ. Fast-forward five years and I am happily working on the green side of the business with Sucafina NZ, helping to bring tasty coffees from around the world to Kiwi roasters.
You're no stranger to the Championship, tell us about your other placings:
The first time I competed in Cup Tasters was in 2011.  The Canadian competition was held at the annual Coffee & Tea Show in Toronto at a conference centre around the corner from Second Cup's head office.  Coffee competitions outside of the Canadian Barista Championships were not held regularly at this time and this was the first I had heard of the competition.  So I entered blindly and went in with very little in the way of expectations.  Much to my surprise, I won.  At the World Champs, in 2011, I had the pleasure to meet the New Zealand Champ Stu Hargie, and he and I became fast friends.  In many ways, that win was responsible for me finding work in coffee in New Zealand. In addition to the two comps above, I also competed in Cup Tasters in Canada in 2012, in NZ in 2018, and then again last weekend.
Pat competes at the Canadian Cup Tasters Championship 2011
I am honoured to be able to represent New Zealand at the World Cup Tasters championships in Chicago in 2024, and am humbled to have been able to represent both countries that I have chosen to call home over the last thirty years.
Do you think success is training or natural ability?
I think success in the Cup Tasters competition is the outcome of both ability and skill.  The ability to discern differences in tastes is something that people do have to different degrees; it is possible to be blind to specific tastes or to be more sensitive to some tastes than others.  So, clearly, having some natural ability is important to success in Cup Tasters. That said, tasting is a skill, and skills can be taught.  Learning to discern nuance in tastes, and how they impact the development of flavours, and identifying the sensorial aspects of coffee is something that people will learn over time as they cup coffee or eat different foods. The path to success in Cup Tasters is to taste coffee with the intention to discover the flavour and sensorial components to find the one odd cup in three.  Oh yeah, and to do this a lot.
What do you do to practice for the NZ Cup Tasters Championship 2023?
I have always suggested that the best practice for Cup Tasters is to cup coffee often and to do so in a way that forces critical evaluation.  We are cupping pre-shipment, arrival, and type samples multiple times weekly at the Sucafina office in Newmarket. When we cup these coffees, we use the SCA long form to evaluate the coffee. Using a system that forces a cupper to evaluate the components of taste means that coffee cupping, and tasting, becomes a mechanical process that can be consistently repeated.  When the only thing that is different in a process is the coffee, then uncovering the differences between coffees is the outcome.  So, my practice was to cup, cup again, and then cup some more. We also hosted a few pre-Cup Tasters run-throughs with clients and this helped me immensely.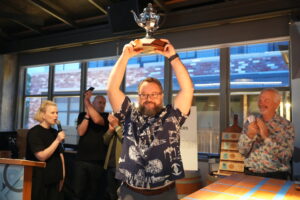 Photo credit: Yuri Yang
Been to Chicago before?
I have been to Chicago. April is probably the BEST time of year to be in Chicago, too.  The Bulls, Blackhawks, Cubs, and White Sox will all be playing, and the weather won't be freezing, or stinky-hot.
What are you looking forward to seeing the most?
I am most looking forward to the competition and to attending the SCA Event.  I haven't had a proper hug or coffee from my Canadian and American coffee peeps in six years, nor have I met in person several of my Sucafina colleagues, so I am really looking forward to catching up with everyone over the course of the event… if I can do some of the above over deep-dish pizza (after the comp only!), that's winning.
Who do you admire most in coffee?
The inventors. Every industry has them, and in coffee, we seem to have them everywhere. The people who look at something and then turn it on its head to get a different result.  We see these people at origin constantly trying to increase cup quality or enhance production and processing technologies. We see them in equipment and packaging manufacturing constantly changing how we access coffee. We see them in cafes, and labs, around the world changing the way we drink coffee and what a "cup of coffee" is.  I admire people who evolve our industry and make it what it isn't.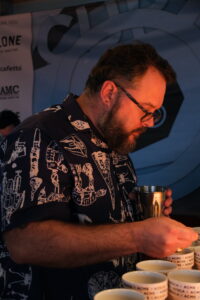 Photo credit: Yuri Yang
What would you say to anyone entering the Championship next year?
Have fun!  Cup Tasters is a wonderful place to connect with other coffee lovers.  Use the event as an opportunity to challenge yourself, and to engage with the broader coffee community. You will, no doubt, be sharing the day with competitors and friends, and you will leave richer for it. Then, once the competition is over, volunteer for an upcoming NZSCA event.  Think about judging a competition or volunteering to support an event. There is a reason why the NZ coffee community is so welcoming and engaged, it's because of the volunteers and the NZSCA's skill in event management.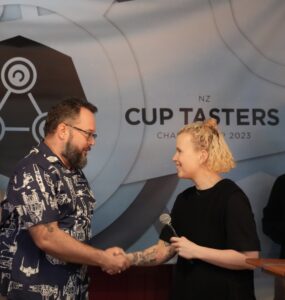 Megan Wyper, President congratulates Pat. Photo credit: Yuri Yang
What's one thing you would go back and tell 16-year-old you:
"You don't always have to have the right answer. Also, the Blue Jays are going to win back-to-back World Series Championships in 1992 and 1993. Seriously. No, seriously. Yes."
What's in your cup?
Right now? A really yummy Fairtrade Organic Colombian Excelso pre-shipment sample.
Finally: Anyone you wish to thank:
Robyn and Megan. My two great loves. Thanks for your patience and unwavering support.  The NZ coffee community, thanks for your passion and engagement, I'll do you proud.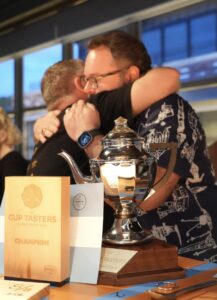 Photo credit: Yuri Yang