We interviewed Nico on his journey to NZ Latte Art Champion 2023.
Do you think success is training or natural ability?
Of course, it is training!! It took me 10 years to finally become a champion. Some people train for a year and become champions and I am sure there are many others like me. The key to success is to do it until you can do it!!! I think it is beneficial for those who know a lot of losses because they can share their experiences with others.
What do you do to practice for the NZ 2023 Latte Art Championship?
Number one is imagery. I tried to visualize concretely the image of myself as a winner, presentation to judge, etc., so that I could make it a reality.
Because I could have a concrete image, I had a goal and knew what I needed to do.
Number two is "Zen". I thought of a routine that helped me relax, and by constantly practicing it, to do so, I could ease my tension and let my true strength emerge.
Been to Copenhagen before?
No, I haven't. I am so excited to go to Copenhagen! I love fairy tales and can't wait to see where The Little Mermaid begins and play with Lego.
What are you looking forward to seeing the most?
I have a coffee master @jibbi.the.little. I have always admired her and have been doing latte art for 10 years, because of her. It is the greatest honor to be on the same stage as my master. And I am looking forward to competing against champions from all over the world!!!!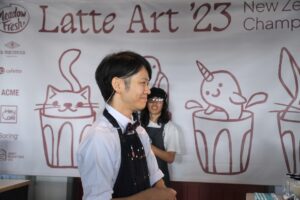 Photo credit: Yuri Yang
Who do you admire most in coffee?
Jibbi. the. Little If I had not met her, my life as a barista would not exist.
What would you say to anyone entering the Championship next year?
I believe that everyone is a latte artist. I am looking forward to seeing the imaginative and creative patterns of many people! Have fun practicing and let's make the competition fun together!
What's one thing you would go back and tell 16-year-old you:
Don't put too much hair wax on your hair. It will make you feel insecure in the future.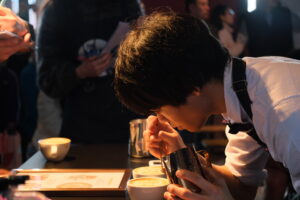 Photo credit: Yuri Yang
What's in your cup?
Long black with a fragment of my soul.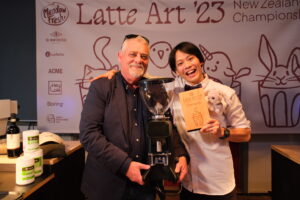 David Worth from AMC presents Nico with his prize, a new Buddy Grinder. Photo credit: Yuri Yang
Finally, anyone you wish to thank:
To everyone at Flight Coffee/Flight Coffee Hangar. Especially, my fantastic coach, Alan Bruce.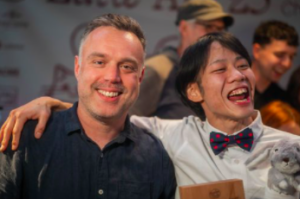 Photo credit: Sean Yew
This championship win would not exist without him. This is a prize that he and I won together. Also my dear friends and family co-workers. They are the reason I am where I am today. There is no other company that could be better. We are in Wellington, and we bring you the best of the best coffee in the world. Flight Coffee is a treasure to me.
And my wife, Honoka Kawashima a.k.a New Zealand Barista Champion 2023. She went with me to the competitions and supported me in everything. Even outside of competitions, she did everything she could do to support me, such as cooking and mental support.
There are many other people I would like to thank, such as customers and friends. I would like to challenge the world competition without forgetting that I am here now because of them.
Tsubasa Nico Nozak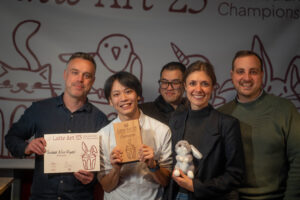 Photo credit: Sean Yew